---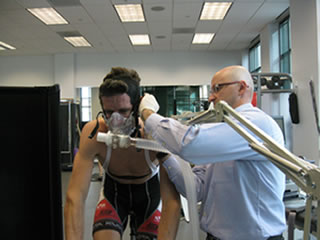 Millions of people embark on a daily, time-consuming quest to stay fit and vital. They walk, bike, cycle, pump, sweat, and pore over the nutritional fine print of everything they eat. Unfortunately, they may not be getting the weight loss and fitness they expect, says Iñigo San Millán, PhD, director of the Human Performance Laboratory at University of Colorado Hospital's Sports Medicine Clinic.
According to Dr. San Millán, the notion that a grueling training schedule automatically leads to fitness and good health is a myth. Why? Because an exercise regimen not tailored to your metabolism can leave you feeling fatigued – and leave you stubbornly over your optimal weight. At the Human Performance Lab, Dr. San Millán develops training regimens based on science, not subjectivity. Athletes from weekend warriors to world-class competitors undergo a battery of tests at the lab to collect physiologic and metabolic data. Lab director San Millán uses this data to craft individually tailored training programs. "At the lab," he says, "we are applying real science in the service of everyone."
Dr. San Millán has extensive experience training world-class athletes in a variety of sports, including rowing, track and field, basketball, and, most notably, cycling – he worked with a Tour de France winner and with 15 Grand Tour Podium riders. He says a dozen years of work with an elite athletic population convinced him that the high-tech tests at the lab, which measure heart rate, oxygen consumption, blood composition and more, could also benefit the average person who just wants to stay fit.
Curiously, although we often think of European medicine as less advanced that ours in the US, his experience in both places suggests otherwise. "I think that in Europe you have a little bit of everything. You have very intuitive cyclists, they have never heard of heart rate monitors, but you also have the whole scientific package. Even with kids, starting at 15 years old, it's very normal for a 15 year old kid to have two or three physiological tests per year, and at least a blood analysis every two months, and a monthly test monitoring your body fat percentage, as well as a daily training program. That's very normal. I thought as well, going back to Greg LeMond, he did an amazing thing for cycling, he brought so much technology from the US. But we're talking more about cycling technology, bicycle technology, aerodynamics, things like that. So I thought when I came [to the US], it's going to be so advanced, all the physiological follow up and science, and I see data at the university level is extremely advanced, but at least in the business of cycling that doesn't happen."
About working with athletes, he says: "I believe confidence is built around education and information. The more education and information the riders have about how their bodies work, how they can get the best out of their bodies and how they can improve their performance through a scientific approach the more confidence they'll have. With all of us working to develop this sports performance programme we want to be collecting every bit of information from each riders at all time so that we can make conclusions and improve their performance.
"The guys know that we're there to help them out and give them information. We're not just a bunch of scientists accumulating information for research. So we'll be supplying information to the team and riders all the time.
About doping in professional sports, especially cycling, Dr. San Millán has pointed out that no sport is more carefully surveyed than cycling, and that the more you test, the more you catch, so the sport will look "dirtier."
He has said: "Imagine here in Denver, there's an alcohol test at every traffic light, and there could even be random tests even before you put your key in the car, boom, there's the police there to test you. In absolute numbers Denver would be the city with the highest index of drunk drivers in the world. Imagine on the other side, in New York City, there's only two policemen, two traffic lights, and everybody knows where they are. In raw numbers, New York's positive numbers would pretty much be zero. At the end of the day, you'd be much safer driving here in Denver because there's so much control compared to New York.
That's pretty much what happens in sports. We hear about more doping cases in cycling just because they do so much more with the tests. We see in other sports they either never test for foreign substances, or they test for only a few substances, so you don't see the whole picture there. Many people miss the whole picture there. The statistics for doping in cycling are probably the lowest in sports. They do about 10,000 tests per year and we only see only 4 or 5 cases per year. So we're talking .04-.05%." While a number of his former employers have been beset by doping scandals, San Millán is widely regarded as an exponent of a clean cycling.
Sources of this information include a detailed, interesting interview with Dr. San Millán in Velocity Nation
---
Iñigo San Millán, PhD, is Director of the Exercise Physiology and Human Performance Laboratory at the University of Colorado Hospital, and is part of the CU Sports Medicine program within the Department of Orthopaedics, University of Colorado School of Medicine, Aurora.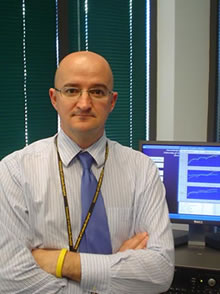 Dr. San Millán obtained his bachelor's degree from Colorado State University and his Doctorate from the Euskal Herriko Unibertsitatea (University of the Basque Country, or Universidad del País Vasco) in Spain. Dr. San Millán works with professional and elite athletes and teams. He has over 14 years of experience as an exercise physiologist and sports medicine advisor for many professional teams and elite athletes worldwide. He serves athletes from a variety of sports including basketball, hockey, rowing, swimming, triathlon, running, University athletics, track and field and cycling. His cycling experience includes work with 6 professional cycling teams, 1 Tour de France winner and 16 Grand Tour (Tour de France, Giro d'Italia, and Vuelta a España) podium finishers, including teams such as Vitalicio Seguros, ONCE, Saunier Duval, and Astana. He has worked with riders such as Joseba Beloki, Abraham Olano, Chris Horner, Fred Rodriguez, Jorge Jackshe, Leonardo Piepoli, David Millar, and Alexander Vinokourov.
Dr. San Millán's expertise ranges from physiological testing, scientific monitoring of the competitive athlete, exercise metabolism, lactate metabolism, overtraining, sports hematology, oxidative stress in the athlete, sports nutrition and medical physiology. As a competitive cyclist and former professional cyclist, his research perspective is widely respected. In January 2010 Iñigo San Millán joined the sports-science team overseeing physiological testing for the US-based Garmin-Transitions pro cycling team. He continues as the director of exercise physiology and the human performance lab at University of Colorado Hospital.